Material:
Fused Silica, Optical Glass, Plastics
Spectral range:
193 nm to 3.5 μm
Micro Lens Dimension:
10 μm to 4000 μm
Functional Lens Shape:
Positive, Negative; Spherical, Aspherical
Surface Roughness:
less than 10 Angstrom ( Å )
Numerical Aperture:
0.004 - 0.45
Lens Positioning: down to
± 0.2 μm
Focal Lenght Variation:
± 2% within 100 mm array dimension
Array Dimension:
Typically 4'' x 4'', up to 6'' x 6''
Packing Density:
above 90 %
Array Pattern:
Hexagonal, Orthogonal, Square, Circular,
Cylindrical, Irregular, etc.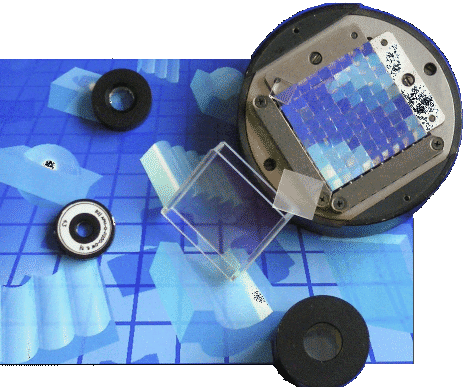 Key advantages of [aμs] Microoptics vs. Standard Optics
Highly Effective Shaping of Beam Cross Section.
Shapes beam into line-, cross- or other beam cross sections.
Highly Efficient Intensity Profiling.
Generates specified intensity profile over cross section, e.g. Gaussian or flat top.
Simple and Highly Efficient Beam Multiplexing.
Adds speed and accuracy to multichannel processing.
Highly Effective Bundling of Multiple Beams.
One general beam is gathered from several sources, for projection TV, light shows etc.
Efficient Collimation of Diode Laser Emission.
Fast axis collimation with high NA lenses, slow axis collimation and bundling.
Higher Efficiency of Photosensitive Devices.
Beam is focused directly onto the focus-sensitive pads of CCD-matrices.
Higher Effectiveness of Fiber Systems.
Beam is focused into fiber core for opto-sensorics, fiber coupling, optical switching, etc.
Higher Precision of Measuring Systems.
Uses exactly positioned monolytic test structures, such as focusing or alighment sensors, distance, depth and size measuring devices.
Improvement of Traditional Optical Schemes.
Relates to size, weight, cost, sensitivity, stability and precision, especially in microphotolithography, consumer products, office equipment, etc.
Supports 3D photography, confocal microscopy, optical computing and integral microtechniques.